Haul Of Shame
Bill Squires DBA Bill's Auto Works Complaint
Bill Squires of Wakeman, Ohio DBA Bill's Auto Works
has been BANNED from
The MTFCA Forum for a one year minimum
effective October 2021
Bill Squires has also been BANNED permanently from
Moparts.com where I found him to transport my car.
Bill Squires did not advertise to transport vehicles
until 2010 despite his claims otherwise
that he has been transporting vehicles for 40 years.
My name is Lindy and I live in Spokane, Washington.
I hired Bill Squires to transport my car.
Bill Squires damaged my car I trusted him to transport.
This is my story in my own words.
Bill Squires Owed Me $12,000 Back In 2010
Which He Agreed To Pay Me In Full For Damages To My Car
Despite repeated promises to pay for the damage he caused
by his direct negligence
Bill Squires has not paid anything as of April 2022
Bill Squires now owes me over $30,000
(10) years compounded interest @ 10% on $12,000
Bill Squires promised to pay for the damage - then he ran away.
THIS IS A NO BS ZONE ......
I found the car of my dreams in Texas in 2010.
I hired Bill Squires from an ad he placed on Moparts.com.
Bill Squires was banned from Moparts.com after hauling my car.
Bill Squires damaged my car ...
Bill Squires promised to pay & then ran away.
This is my story in my own words about Bill Squires ....
For many years Bill Squires denied ever hauling my car
but once I posted my stories and images that I took of
what happened he could not continue Lying.
Here is an image of my car in Texas before Bill Squires picked it up:
Here is Bill when he arrived with my car on his trailer - you can see him
if you look closely at the front of my car which is still on his trailer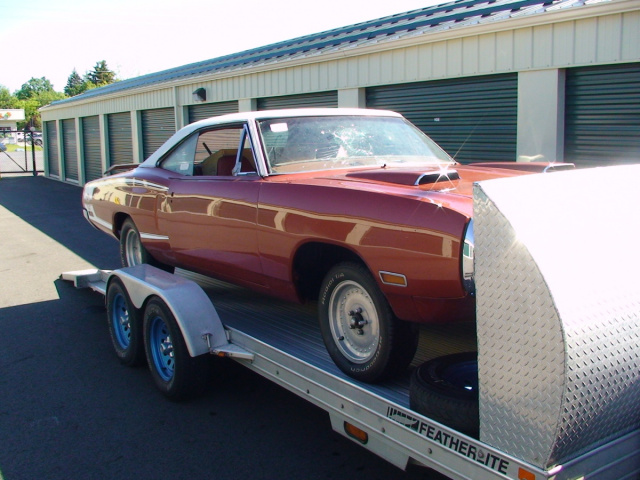 Bill willingly drove through the Denver, CO area at night during a massive storm
that was predicted a few days in advance that he could have avoided
if he had monitored the area weather,
He willfully drove into a storm with hail the size of baseballs.
Here are close up images of the hail damage ....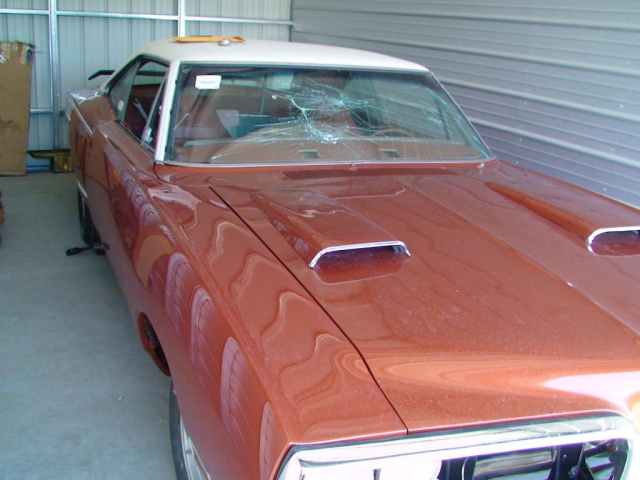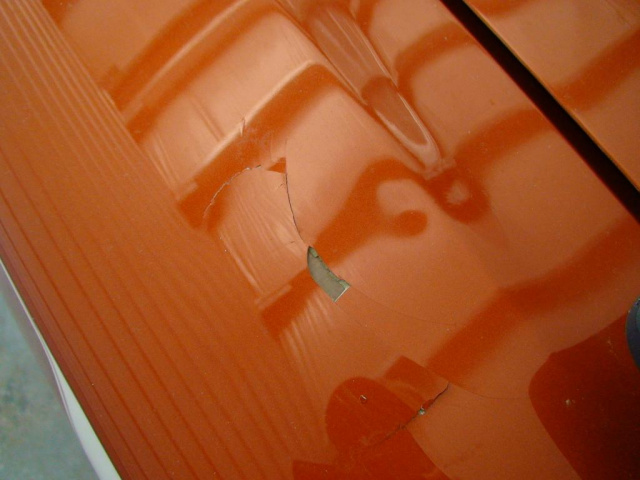 My car was dimpled with baseball sized dents from front to back.
The rear spoiler was split, one scoop was cracked, every panel had dents.
The new windshield was destroyed.
The brand new vinyl roof needed to be removed for the repair.

When BIll Squires arrived with my car I asked him if he had insurance.
He told me that he did but if he filed a claim it would be devastating to his business and shut him down.
He told me that he would pay for the entire repair and accepted responsibility.
That's right.
He assumed fault.
After he went home however, his story changed
and he told me that he wouldn't be paying to have
the car repaired so I asked Bill Squires for his
insurance information and he told me he didn't have any insurance.
He said it was an "Act of God" that couldn't be helped.
He said my car was not damaged by his actions while in his care.
While "Acts of God" can't always be predicted ...
The Hailstorm Bill Squires
chose to drive into at night - was predicted days in advance.
Bill Squires chose the route and the time to drive it.
The decisions made were all very much Acts
of BILL SQUIRES and not Acts of God.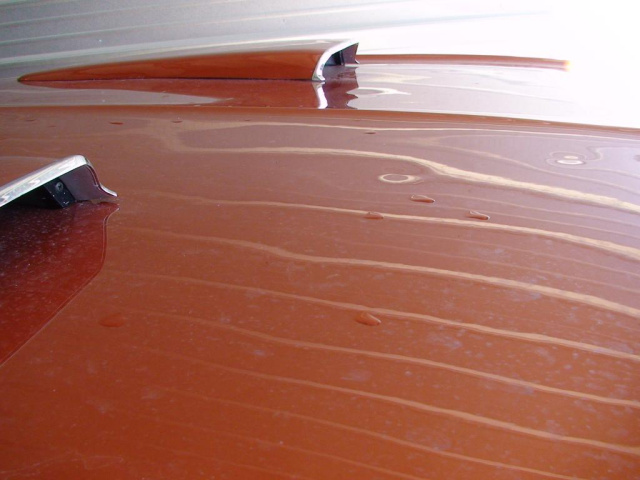 When a responsible person runs a business they don't take avoidable risks.
If the weather is bad in an area known for killer hail,
YOU STOP NEAR SHELTER and you wait it out.
This has been confirmed to me by several other
transport company who has heard my story.
Who in their right mind would hire someone that advertised
"Your car will be on an open trailer and You better have insurance
and be prepared to roll the dice because I drive whatever route I want
through whatever weather and if your car doesn't come out okay
it is not my fault."
This is exactly what Bill Squires did.
He even advertised that he was insured.
Then he told me after he decided not to be responsible that he only had
Liability coverage for situations where a car he was hauling caused
someone else bodily harm of physical damage.
WHAT ?
Why advertise the obvious like it's something added or special ?
It's bogus advertising to get you to THINK you are covered.

Here's the point.
Bill Squires misrepresented himself in his ad regarding his insurance.
He disregarded the safety of my vehicle when he chose his route and drove
into a major predicted storm at night with hail.
He lied to me about fixing the damage done to my car while in his care and control.
I want to encourage you to ask yourself if you think Bill's Auto Works was negligent.
Knowing now how he treated my dream car, ask yourself if you would trust him with yours.

I wouldn't.
ALL IMAGES and TEXT appearing on this Website and it's linked Pages are PROTECTED under copyright law. NO IMAGE or TEXT appearing on this and every other linked Website Page MAY BE DOWNLOADED, COPIED, FORWARDED, REPRODUCED or used IN ANY MANNER without first obtaining our express written permission.